EXIDE VERNON BREAKING NEWS: Coalition of East Los Angeles elected leaders seek role in Exide cleanup; Oct. 29 deadline to file objections to Exide's stipulation with DTSC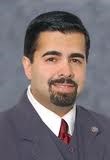 "Exide is using smoking doors and mirrors to hide the fact that it doesn't want to spend the money to install emission control equipment that works and that is just not acceptable." – Daniel Crespo, Mayor, Bell Gardens
Vernon, California (PRWEB) October 14, 2013
"Exide must comply with DTSC and SCAQMD regulations," said Maywood Councilmember Felipe Aguirre at yesterday's press conference.
"The Stipulation and Order (Docket HWCA: P3-12/13-010) between the California Department of Toxic Substance Control (DTSC) and Exide (see attached document), announced on Monday, October 7, 2013, focuses on limiting Exide's financial responsibility, but does not include any language related to providing compensation to potentially affected parties," said Aguirre.
The deadline to file objections is 4 p.m. EST, on October 29.
The hearing with the Bankruptcy Court judge is set for 3 p.m. EST, November 5.
"The Stipulation and Order does not address key issues critical to the community. For example, there appears to be no provision in the settlement requiring Exide retain responsibility for prior operations. http://losangeles.cbslocal.com/2013/10/11/local-officials-call-for-immediate-accountability-for-vernon-recycling-plant/," said Councilmember Martin.
"Since Exide is in bankruptcy (US Bankruptcy Court for the District of Delaware, Case #1:13-bk-11482), there is nothing in the settlement to ensure that Exide will not use its bankruptcy filing to eliminate issues related to past clean up concerns nor is there anything in the settlement agreement that addresses this issue," said Bell Gardens Mayor Daniel Crespo.
"The stipulation also requires that Exide place $7.7 million in a Financial Assurance fund. This amount is supposed to ensure upgrades to equipment such as Exide's storm water system. Exide gets all the $7.7 million back if it closes the plant. There is no requirement in the agreement that it use these funds to remediate impacts caused by its operations," said Crespo.
"DTSC agreed to the following sentence: 'Further, nothing in this Stipulation and Order shall constitute or be construed as an admission of liability by or on behalf of Exide for any conditions or claims arising as a result of past current or future operations, acts or emissions or Exide. Exide specifically denies all liability and reserves all legal rights and defenses,'" said South Gate City Councilmember Jorge Morales.
"The terms of the Stipulation allow Exide to continue operating as it currently does until 2015 even though two recent tests conducted by the AQMD reveal that the facility continues to increase the risk of cancer to all those living in its general vicinity. In fact, under the Stipulation, the DTSC excuses Exide from complying with AB 2588 until the middle of June 2015, despite the AQMD's recent and repeated public finding and announcements that Exide's cancer risk requires notification to the public and a plan to rectify the issue", said Crespo.
"There is no provision in the proposed settlement to guarantee that Exide retain responsibility for past actions related to the Vernon facility," said Cudahy City Councilmember Chris Garcia.
"The Stipulation and Order cannot be signed until approved by the Bankruptcy court. While the approval request is pending, we plan to use all the resources we have to make sure the terms of the Stipulation and Order – and DTSC's concurrent with those terms – are known to all," said Bell City Councilmember Violeta Alvarez.
"We have asked the SCAQMD through a public records request to release any publicly available video footage related to District mandated emission control technologies including footage related to the facility's isolation door. Under the proposed Stipulation, the State of California assumes full responsibility if Exide ceases operations at the plant. There is no language in the proposed Stipulation requiring Exide to address the potential impacts it has caused, leaving California taxpayers with that burden if the company decides to close its doors," said City of Bell Councilmember Violeta Alvarez.
For more information, contact Daniel Crespo, Mayor of Bell Gardens
Coalition of Residents, Factory workers & Community Leaders
(818) 396-6578
Email